You can educate an illiterate, but you cannot educate a literate idiot. This sentence will be apt in case of some liberal Italians and their stupid politicians who had made the entire population suffer because of their ideology and blindfolded faith in liberal and socialistic approach. Sometimes in grim situations politicians or population should think practically rather than looking everything under the prism of ideologies. Italy today is facing one of the worst death toll post second world war. They have hammered their foot inspite of repeated warnings boldly written on the wall. The story is yet another illustration of how political correctness can actually be dangerous if not fatal. The ruling Democratic Party (Italian: Partito Democratico, PD) is a Social-democratic party in Italy with far left liberal ideologies and is a part of Center-Left Coalition.
Italy especially Prato, Tuscany, Lombardy, Milan, Rome,Turin and parts of Florence is home to many Chinese immigrants. These Chinese immigrants in Italy are in good numbers especially in Textile, Clothing, stores & Electronic business in these areas. According to the data published by Italian Ministry of Labour & Social policies, italy is home to close to 310,000 Chinese immigrants. Usually during the time of Chinese new year these immigrants go to their native places in China and return back after the festivity. This time Chinese new year was on 25th Jan 2020 coincided with the COVID-19 attack with many Chinese immigrants flew into China in December, January months and returned back to Italy in last week of January and first week of February 2020. This was the time when Covid-19 virus was showing its dangerous effect in Wuhan, China.
Instead of taking precautions or diagnose the incoming Chinese, Italian government allowed free inflow into their country without proper checking. Later during the same period & first week of February, some of the native Italians started keeping some distance and avoided Chinese restaurants as a safety measure. But as usual politicians anywhere in the world shall try to exploit the situation. This time Italian masses keeping distance with incoming Chinese issue was converted into a false propaganda "Hug a Chinese" with misinterpreted ideologically as "Racism against Chinese" by the Center Left Coalition government and promoted it into Hug Chinese campaign for appeasement. This was fully blown out of proportion with the support of leftist media outlets.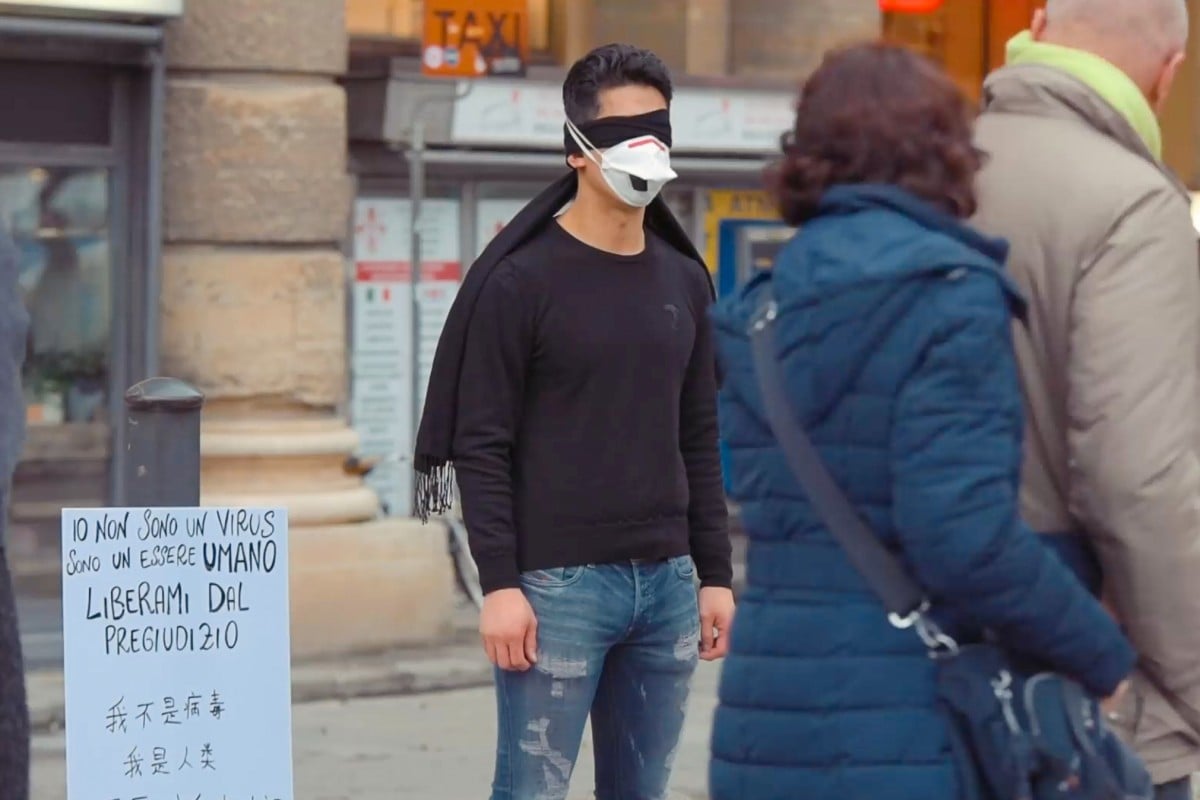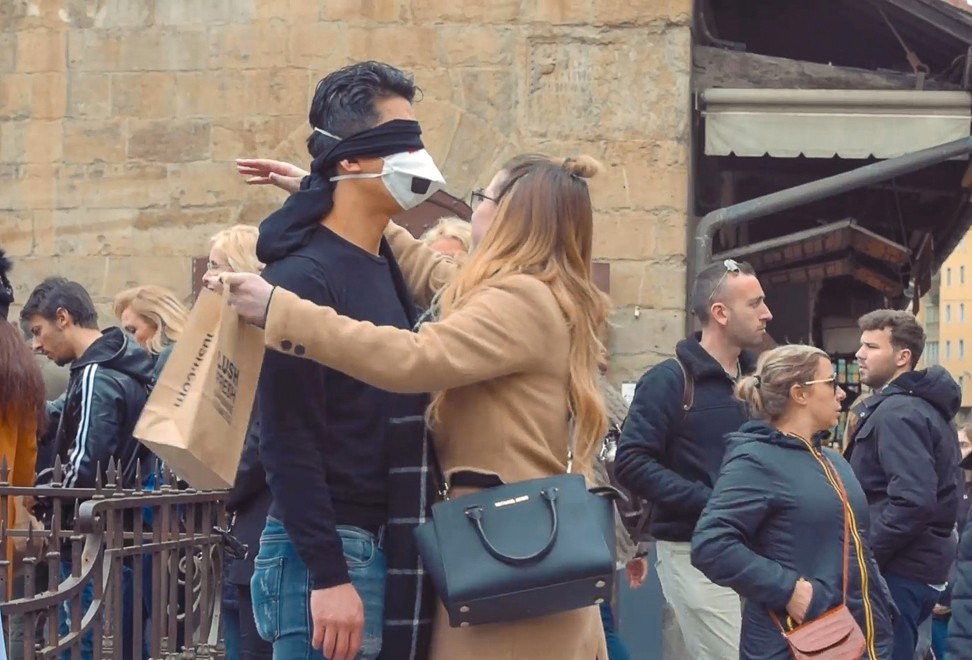 Massimiliano Martigli Jiang during February makes his point by mentioning "I am not a Virus I am a Human being, free me from prejudice", he was overwhelmed by the touching reactions he got from fellow residents and tourists. His video & above picture has received wide media coverage in Italy.
Back in February, when the cases of Positive corona virus were being recorded in Italy, The Mayor of Florence "Dario Nardella" who is a member of left wing democratic party, foolishly launched an anti-racism hashtag campaign which translates as "hug a Chinese." He further encouraged Italians to Hug a Chinese with his videos as a stand against racism before Italy was forced to quarantine its entire country because of the corona virus. These campaigns were supported heavily by the ruling party inspite of warnings by some experts. This had wide impact on many liberal Italians who posted selfies in social media platforms with free hugs and kisses with Chinese immigrants & tourists. This was the phase when Italy was slowly moving into 2nd and 3rd phases and it was too late for the government to realize and correct the mistake it committed. Till then Italy was completely under peak community wide spread phase which was uncontrollable and impossible to stop propagation.
This grave mistake promoting politically correct scenario for Chinese immigrant votes and appeasement politics by the current ruling Leftist socio-liberal government had led to many innocent deaths which could have been avoided.
Italy is now under a complete lock down after the country was ravaged by corona virus with more than 85,000 positive cases and more than 8,000 fatalities as on date. This is the worst year for Italy post world ward II era on human fatalities. The current government and its stupid politicians should be tried for genocide of innocent Italians with their stupid act done with their idiotic ideologies.